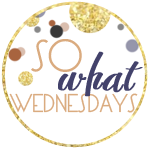 I am following the blog trends and doing another So What Turkey-Day-Eve Wednesday!
Today I am saying SO WHAT IF...
i am actually happy to not be traveling or having any plans for this Thanksgiving.
we started Turkey-Day-Eves last night, with Blue Moon and Shiner, and i dont care
i havent gone to the gym at all this week
we arent even having turkey this year, shrimp Alfredo and cheddar bay biscuits, my meal at red lobster that T-Dubs is making homemade #keeper
full on Netflix binge is expected
no tile will be laid, hopefully backer board will go up
there is literally nothing for me to do at work
i was gonna play today by ear and then plan on taking friday, since most people wont be here
then my boss announced in our meeting, that i will be the contact person on friday
then i tried to explain i didnt have anything to do, to which the response was i could help decorate.
my mental response was this "bitch, please! i got my own show to run!"
today i am not very thankful for my job
Type A personalities dont like to have their time wasted or sit idly well
T-Dubs is getting a kick arse ThanksMas gift. deets will be on the instagram later!
And thats all i got today. Feeling a little pity party ish because i have so much more i could do at home than i could here. But alas i am grateful to have employment, benefits, a home, food, and mostly beer.