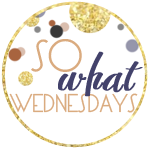 Late to the game, but non the less! Today i am saying SO WHAT IF...
this will mark my third week being "sick" in some capcity
i love the holidays but im not with the Christmas Spirit this year.
usually i can't wait to watch my holiday favorites...and i havent yet.
we leave Sunday for Florida for Christmas with the inlaws.
its supposed to be snowing on Sunday.
i dont mind traveling we do it a lot, but i am a terrible traveler while sick good luck T-Dubs
id literally give anything to not be sick anymore
a few more packages have arrived from family without notification.
i opened said packages
and didn't wrap them
i plan on useing/wearing one on Sunday when we travel.
i'm 100% selfish about Christmas, its my holiday.
thats not realllllly the reason for the season
nothing will make me feel better, and i want to eat my feelings. plus Buffalo Wild Wings would make my nose stop running.
And thats what i am saying SO WHAT to!